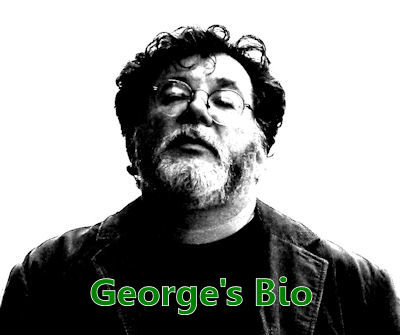 George Tassara is a somewhat reclusive sometimes trumpet playing
keyboardist/composer maker of visual art living in Albuquerque, NM (how a
humble Massachusetts boy ended up in the wild west is a boring story too long to
go into here). He graduated from Berklee College of Music in Boston with a
degree in composition and has also done some graduate level work in
education at City College of New York.






As for visual art, he is what is commonly referred to as "self taught". George
was extensively involved in "mail art" in the seventies and eighties and has
had some of his small multi media pieces displayed in galleries in Boston,
Chicago, Wisconsin, North Carolina, Ireland and Japan. More recently
George has become involved in digital art and glass fusing which he studied with
glass artist Ella Myrick...the exception to his "self taught" status. He
combines mixed media with his digital art and fused glass work. George's artwork
is influenced by the folk art of the Latin America, United States and Africa,
jazz, dada, surrealism, pop culture and even occasionally his left of
center political views of the world.






George divides his time between Albuquerque and Denver where his
artwork has been displayed in several galleries.
He records his eclectic world beatish new age-like techno-jazz in his home
studio that for no apparent reason he calls "Wishful Palms Sound Laboratory",
and has released several CDs on his own Fabulous Gertrude label.



george@tassara.net